Audio Visual Hiring Event (Los Angeles County)*
Los Angeles, California
Job ID: 206646
Overview
Our Technicians enjoy the opportunities to work with innovative and cutting-edge technology on a daily basis. From setting equipment as elaborate as an LED wall to simply ensuring cable is properly run through the venue, our Technicians are the foundation of the events we build and bring to life. They ensure that each event is flawlessly executed, and work with the rest of the team to setup and strike down each event in a timely manner. At PSAV, customer satisfaction is our highest priority, our Technicians play an integral part in establishing a positive relationship with each of our clients.
Full Time
Travel: Minimal (if any)
Success Profile
Here are some of the top qualities that will help you achieve success in this role:
Customer Focus
Desire to Learn
Drive Results
Technicial Aptitude
Responsiveness
Hospitality
Other Important Traits
Communicator,
Team Player,
Organized,
Enthusiastic,
Versatile,
Self-starter,
Multi-tasker,
Efficient,
Safety Conscious,
Professional
Employee Quotes
The ability to put on the big shows that my hotel plans out, or to teach the incoming technicians how to make these shows happen, is why I really like the hustle and bustle of my day-to-day as a Technical Lead.

– Miguel
(Technical Lead)
All it took was applying myself in my role within the company and in no time I was getting to witness incredible things, meet important people from all over the globe, and see the big picture through the lens of PSAV.

– Peyton
(Technical Lead)
We don't sell projectors and mics, we sell a service. PSAV is all about getting the details perfect, planning and constantly putting forth the best quality and service to our clients.

– London
(Technician)
I enjoy working at the hotel property because every day is a new experience, I work with an amazing upbeat and supportive team, and the production of each unique show is breath-taking.

– Taylour
(Sales Coordinator)
Purpose, Mission and Core Values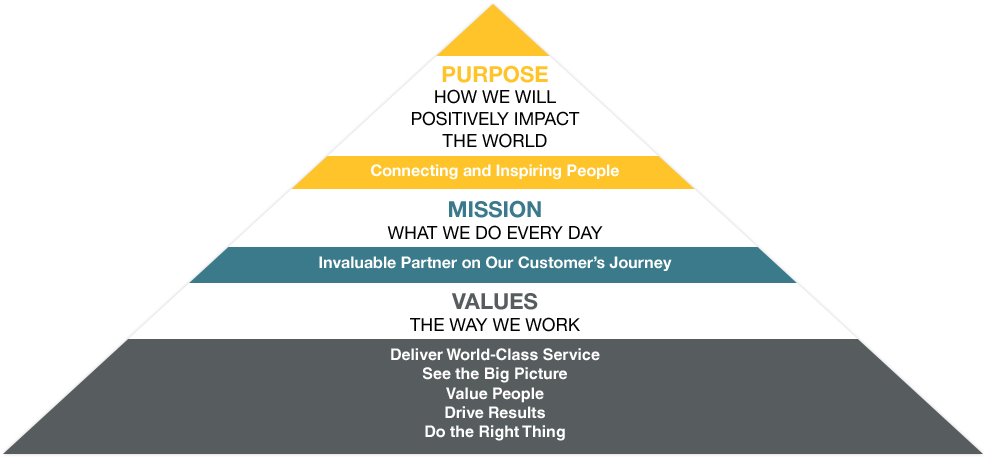 Purpose
How we will positively impact the world
Connecting and inspiring people
Mission
What we do every day
Invaluable partner on our customer's journey
Values
The way we work
Deliver world-class service. See the big picture. Value people. Drive results. Do the right thing.
Rewards
Paid Time Off

Vacation Days
Paid Holidays
Floating Holidays
Sick/Personal Days

U.S. Benefits

Medical, Dental, Vision and Life Insurance
Health Savings & Health Reimbursement Accounts
Flexible Spending Accounts
Employee Assistance Program
Retirement Planning Options (401k)
Career Wear Reimbursement
Part Time Regular Benefit Offerings
Variety of Volunteer Benefits
Commuter/Transit Benefit


Rewards/Incentives

Premium Recognition Program (CenterStage)
Performance Incentive Plans (GEI Bonus)
Employee Referral Program
Annual Merit Evaluations

Training & Development

Classroom/On the Job Training
PSAV University
Career Pathing

Mobility

Relocation
Global Transfer Opportunities
*Benefits eligibility varies upon position and/or full/part time status.
Responsibilities
Job ID 206646
Date posted 12/05/2018
Come Join Our Winning Team!
PSAV Interviews 
December 18th, 2018
Invitation Only Interviews will be held during business hours in Harbor City, CA.
We are looking for Entry Level to Advanced Event Technology Professionals throughout Los Angeles! 
PSAV® Presentation Services is the leading supplier of audiovisual and event technology to hotels, associations, producers and meeting planners worldwide. We use event technology to turn ordinary meetings into memorable experiences so that the message lasts. We service everything from boardrooms to convention centers mixing creativity with the right technology so our customers look like heroes!  Whether you're looking to begin a career in Event Technology or take your career to the next level, PSAV will provide you with the training and resources you need to lead you down your desired career path! 
We will be hosting a on-site interviews in Harbor City on December 18th, 2018. This is an opportunity to meet with key decision makers in the region!  To be considered, please apply to the "Audio Visual Hiring Event (Los Angeles County)" posting on the PSAV Career Site: https://jobs.psav.com/ . If qualified and selected, a confirmation time and specific location details will be included in the official invite.
Below are a few of the positions we have available at PSAV in Los Angeles: 
      * Technician- Part-time & Full-time opportunities are available
      * Rigger -Part-time & Full-time opportunities are available 
      * Technical Specialist- Part-time
For more information, please visit our website at https://jobs.psav.com
We are proud to be an EEO/AA employer M/F/D/V. We perform pre-employment criminal background check & substance abuse testing. This is a company wide policy and will include medical and recreational marijuana. 

Required Skills
PT REGIONAL Technician (Entry-level)– FLEXIBLE HOURS are available in this position! Responsible for the set up/tear down and operation of basic / small-scale audiovisual systems in a hospitality environment for live events while ensuring complete customer satisfaction. Ability to travel/work at various PSAV hotel locations throughout Los Angeles  & reliable transportation are a MUST! 
PT/FT Technician– Responsible for the set up/tear down and operation of basic / small-scale audiovisual systems in a hospitality environment for live events while ensuring complete customer satisfaction. Candidate must be flexible in scheduling requirements and demonstrate superb customer service skills.
Riggers– Performing specific rigging activities in accordance with PSAV Rigging Standards. They have a shared responsibility in upholding safety and quality standards. They will also perform the functions of an Event Technology Specialist when specific rigging duties are not assigned.
Technical Specialist– Responsible for the set up and operation of small to large-scale ADVANCED audiovisual systems for live events while ensuring the utmost in client satisfaction.  Team Members in this role have at least one Level 1 Specialty.Performs advanced work (pre/during/post event) with operations team members. Supervises and directs other technicians during an event. This position reports to a Project Manager, Operations Manager, Operations Director, or Director, Event Technology. Must have at least 3-5 years of field experience in specialty area. Must have experiencewith project management of multiple tasks/initiatives as well as strong customer, client and coworker interface experience and abilities.
***Must have reliable transportation and the ability to work at multiple PSAV locations throughout the Los Angeles area***
Required Experience :
PSAV123
Job Location
Los Angeles,California,US
Position Type
Part-Time